In a very real way, yoga has changed my life completely. I was supposed to be a doctor: I was only 2 months away from writing my medical school exams when I completely changed course and decided to go take the Bikram Yoga Teacher Training in Los Angeles back in the Spring of 2003.   I actually began a fairly regular practice at Bikram Yoga Yaletown to stop my mind from racing and get some stretching in after being bent over books for so long.  Studying for your MCATs means loooooong hours of studying, pretty much from dusk til dawn, and the pressure to come out on top is pretty intense.  Needless to say, for a Type-A personalities, perfectionism is at an all-time high.  The yoga became like an addiction, (or a medication), the only respite from my restless mind.  I had a month to go before the exam date, which also happened to coincide with the start of the next teacher training.I made my choice:  I paid the registration fee, packed up my car, and began a journey that I am still happily on, 9 years later.Some believe that Hatha yoga, the physical expression of yoga, is very limited in its ability to evolve the whole Self,  but I agree with Bikram that anyone who  has practiced with right intention for a long period of time, absolutely must draw upon all the limbs of yoga to do the physical practice well.  For instance, when you do your asanas, you are also drawing upon Raja yoga, control of the mind, and also Bhakti or Devotional yoga through regular practice and cleanliness.  In our daily, unflagging improvement of our primary instrument, the body, we refine and revitalize every cell of the body, we realign our bone structure and energy centers cleaning out conjestion and blocked pathways with unflagging determination and good humor. Because of this we can then approach our Karma Yoga, or Life Duty, with renewed vigour and strength of character.  Our mind is now working for us instead of against us, and our body is of good health.  Dharma Mittra once said that asanas are like a prayer we offer with our bodies.  The list goes on.  An advanced hatha practice is not about doing the standing splits or a scorpion pose in handstand.  It exhibits great discipline, humility and compassion, respect for the mind-body union, development of body control especially with regards to unconscious movement and breathing, and above all is regular, irregardless of what is going on physically or socially.  Once you comprehend the importance of this marriage between the mind and the body, you will find a way to practice, no matter how tired you are, how hurt you feel, or how many errands you have to run.  You simply do your practice because there is no other choice.   To learn the tools to control your mind is one of the best gifts you can give yourself, especially in this hectic world.  Through discipline there is peace, and real freedom.  Freedom to develop your true potential and be the best possible version of yourself!   In Hatha yoga you really come to to understand that the real battles are won in the mind.  Once the mind is under control, it will be your best friend, but as long as it is running around, knocking at the walls of your skull, it will be your worst enemy.  I was just telling a student of mind today who is really struggling with this, that there is absolutely no shame in noticing what you are doing wrong, but that the moment you see yourself, and see whatever bad habit it is that you're doing, at that moment you must take control!  And if you stop looking for those habits, if you give up and "accept the way you are", that is the worst thing you can do…it is an insult to your higher Self.  You must never, ever, ever, ever give up.  And you must also never give up your sense of humor!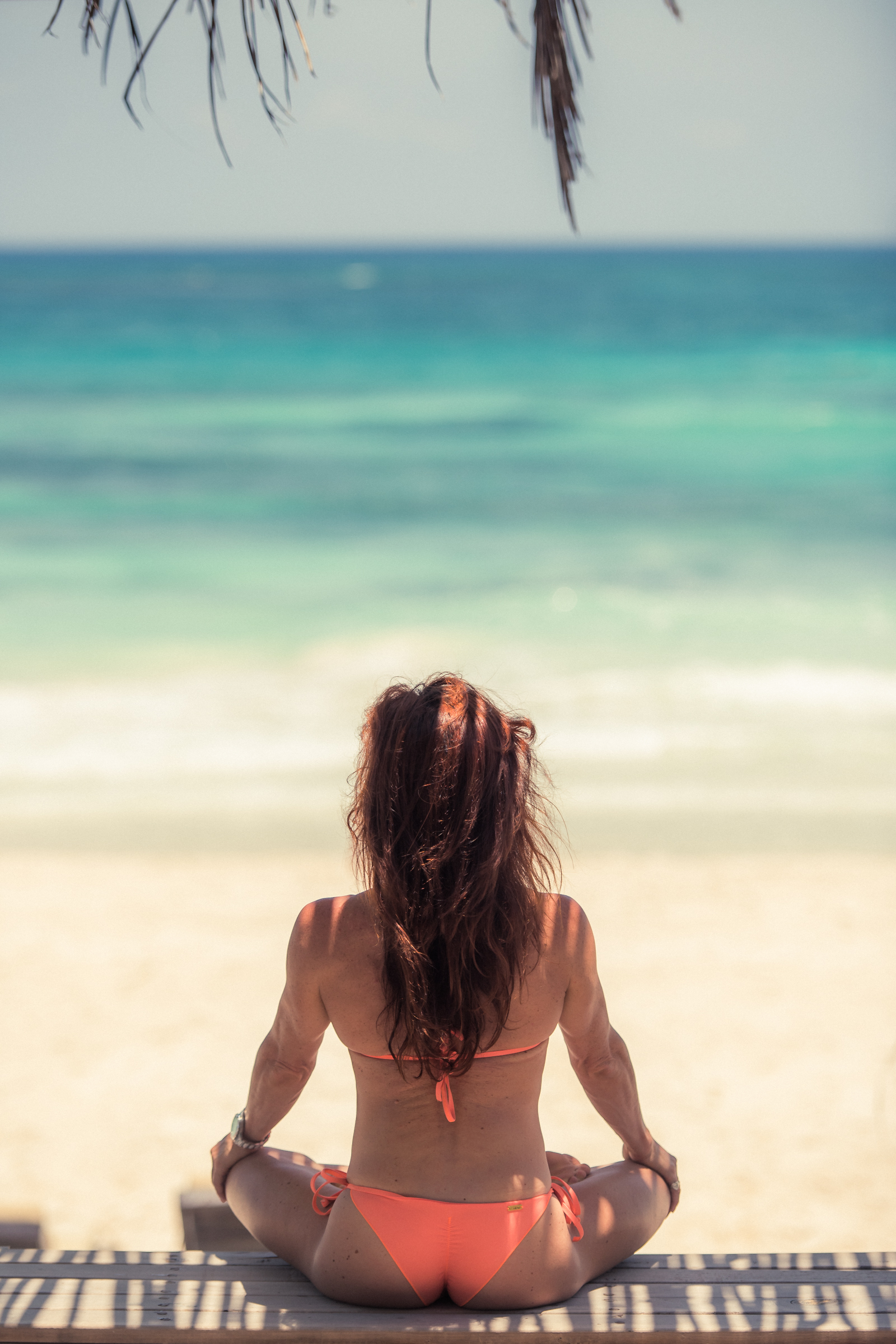 As my teacher Bikram Choudury quotes his own teacher Bishnu Charan Ghosh, "It is never too late, it's never too bad, and you're never too old or too sick to start from scratch once again."  Just remember, the successful ones in life are the ones who start from scratch, and just keep scratching!  Little by little, as long as you are trying the right way, with all of your effort, and you just keep trying patiently and lovingly, then day-by-day you are guarenteed to improve.  In the same way you also improve your character.
This way of thinking has become the backbone of my daily philosophy.  It's how I live my life, or at least how I try.  Whether I am teaching a yoga class or practicing, I am always aware of how and when my mind is working for me, or against me.  I truly understand the saying that, "our thoughts create our reality, whether we think we can or think we can't, either way it will be true."  It is this same philosophy that drives me through my tough workouts at the gym as well.  Once I make up my mind to do something, nothing can change it.  You have to be willing to take control and kick your own behind.  You have to keep looking at yourself with an eye for improvement.  If we resist consciousness and make up excuses for our behaviours and blame other people or our job or our genetics or what we ate for breakfast, we will never improve.  It is like taking two steps backwards.  Yogis say it is hard to seek out the truth, because it tastes bitter.  I think that being able to truly see your behaviors is true liberation…You can catch yourself tricking yourself out of your own success…what could be better than that?? Trust me,  it's hard work looking, correcting and pushing, and it never really gets easier, because the better you get at, the more you can see, and at the same time the harder you can push!  As long as we see how we are responsible for our lives, and who we have become, then we can improve, and make ourselves better, and our community better.  We always have a choice.  "The key to your life is in your own hands." ~ Bikram.
Physically, a good hatha practice like Bikram yoga should completing irrigate the body via the respiratory and circulatory system.  Yoga is like taking a shower for the inside of the body.  The postures open the body up, and the circulatory systems washes it clean.  I think the biggest aspect of the aging process is the hardening of the tissues and reduced blood-flow.  When I started Bikram yoga at 30, my knees were pretty shot from 20 years of running, and 6 years of snowboarding and competing.  I had a second degree tear in my right ACL, and chronic upper back tension especially in the trapezius muscles, (my neck would often spasms and I saw a chiropractor and therapeutic massage therapist several times a year), and I also suffered poor circulation in my toes and fingers, especially in the winter months.  While I looked pretty good, and kept myself in shape, I was already feeling the effects of age.  I remember that after only a year of practicing just 3 or 4 times a week, I could notice huge improvements in my flexibility, my peace of mind, and simple awareness of posture and breathe.  After I went to the teacher training where we practice twice a day for 9 weeks, I really understood in a visceral way how incredible powerful a steady practice could be.  My knees completely stopped bothering me.  They no longer cracked and popped when I went into Awkward Pose, (the second posture of the series, very good for bad knees).  My back wasn't so tense any more, and my shoulders weren't frozen when I went into Eagle Pose, (the third posture).  I've kept my practice up to 5 – 7 classes a week for the last 11 years now, my inspiration being the old guard like Emmy Cleaves, Dharma Mittra, Patricia Walden, Iyengar…people who have amazing health and vitality, and sharp minds no matter what their age, and they still practice!!  That is what inspires me to keep going no matter how I am feeling, how sore I am, or how busy I might be.  Because I understand that the improvements and benefits that I've received in this past year alone, are so much more than what I received in my first years, and it will keep going like that, because yoga is a marriage of the mind and body, and the potential to improve that connection is limitless.  The stronger that connection is, the more energy and vitality we have, the more we are able to give back to the community.