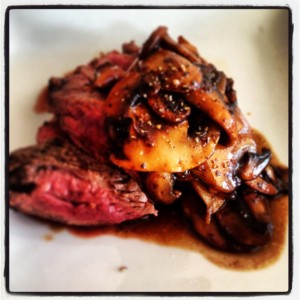 Dieting down for a show shouldn't be a painful, tasteless culinary prison of tilapia and asparagus for 12 weeks.  You know how much I stand behind the importance of saturated fats in the diet, as well as grass-fed red meats…As a woman, I want to make sure that I'm sparing my liver and taking in enough dietary cholesterol.  Because I live, eat and train healthy year-round, my response to food is always efficient, so getting ready for a show is simply a matter of reducing overall calories, (I don't actually count calories, but I do reduce portion sizes) and cutting back on all carbohydrates every week as I get closer to my show.
Okay, so here is a dish I have 2 – 3 times per week as the last meal before bedtime: a small filet mignon, seasoned with simply with salt and pepper, and pan seared in a bit of duck fat or clarified butter, (saturated fats are the best fats to cook over high heat with as they remain stable and have a high smoke point!).  The secret is in bringing the meat up to room temperature before cooking it, ensuring a more even sear, and the medium-rare center stays warm, and also in the pan-sauce.  Pan sauces should be quick and simple, and use a minimum of ingredients.  I used 2 tsp of cold butter, a good splash of highest quality aged balsamic vinegar, and sauteed cremini mushrooms that were thrown into the pan as the steak was searing.  You just can't get more simple than that!
What you'll need…
1 4 oz filet mignon
sea salt and pepper
1 tsp duck fat
3 large cremini mushrooms, sliced thin
splash water
splash of aged balsamic vinegar
2 tsp of ice-cold butter, cut into 4
Season the filet on both sides.  Get a small saucepan hot over medium-high heat, throw in the fat, and when it's shimmering, lay down the steak.  After about 3 minutes, (depending on how "done" you like your steak) turn it over, add the mushrooms all around the sides, add another pinch of salt, and continue cooking for another 3 – 4 minutes.  Stir the mushrooms often to ensure even cooking and to help let off their moisture.  Remove the steak to a cutting board to rest while you make the sauce: add a splash of water to the pan to deglaze the delicious meat fond from the bottom, and reduce over high heat.  When the water has reduced by half, (this should only take about a minute), add a good splash of balsamic, reduce again for another 30 seconds, then remove from the heat and swirl in the butter until fully incorporated. Slice the steak across the grain and plate it, then spoon the mushrooms over top and drizzle the remaining sauce over everything.
This should give you about 30 grams of protein, 10-15 grams of fat (I don't count the fat in the meat), and 2.5 grams of carbs…
Please try this recipe out and let me know how it goes for you!
xoxo