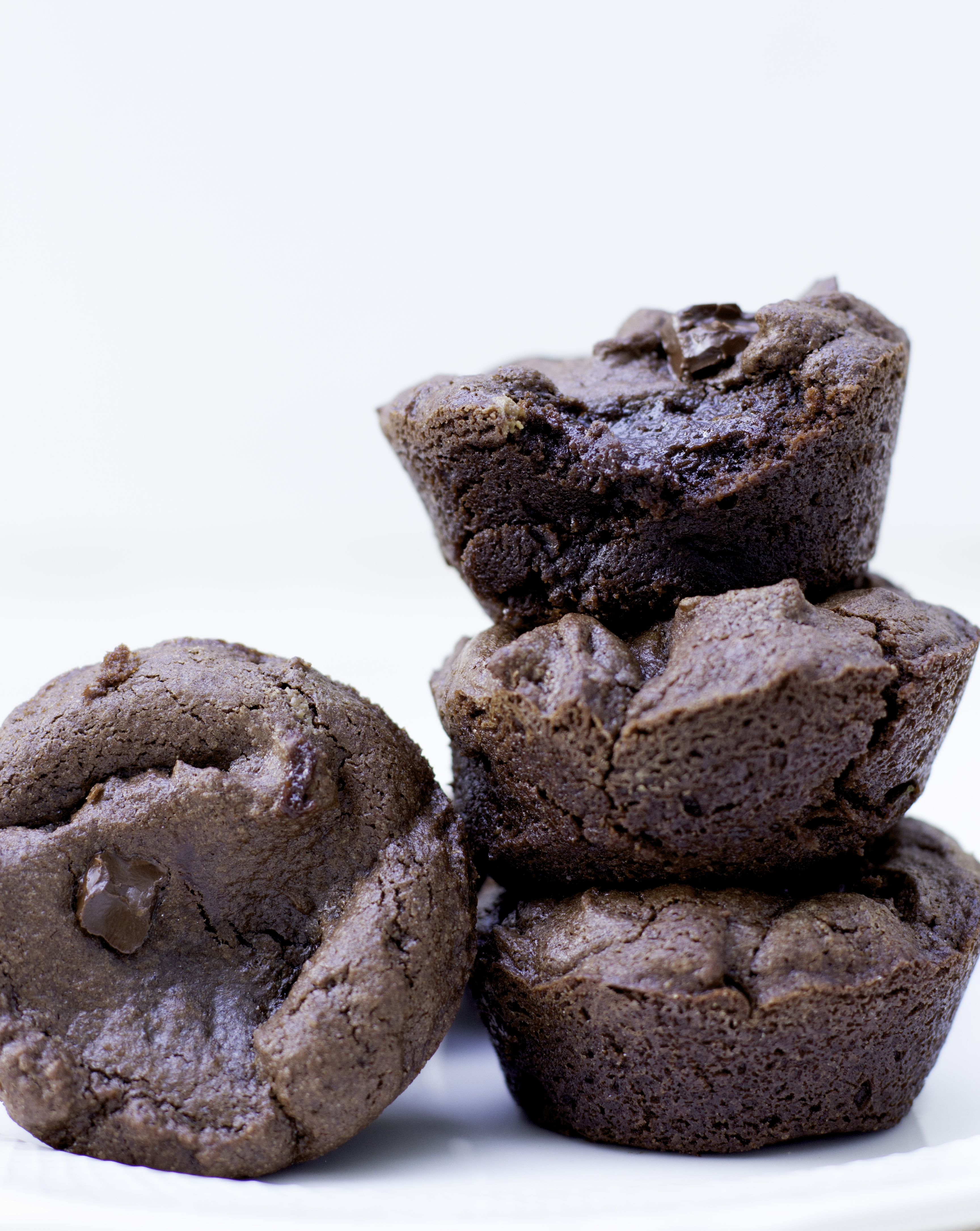 This is a foolproof recipe that uses Bob's Red Mill Brownie Mix, Magnum Nutraceuticals Chocolate Peanut Butter Protein Powder, some dark chocolate chunks, egg whites, butter and almond butter! Are you even kidding me??
…aaaannnddd the best part is, it's yet another Ninja Blender recipe that takes less than 5 minutes to prep and only 15 minutes to bake.   How freakin' awesome is that??
Honestly, my husband and I have these every single week during building season (the season between shows and photo shoots when we are focusing on gaining muscle mass).  These are also a fantastic treat for the family, with less fat and more protein than the typical brownie recipe.  But get this!!!  Your kiddies or mom would never, ever know!  These brownies are rich, gooey, and even have chocolate chunks buried inside.  I hope you love this recipe as much as we do!
As always, if you make these, please take a picture of it and tag me on whatever social media platform you love to use!  Much love, and happy baking!
Builder Brownies
Foolproof brownie recipe that has a decadent, fudge taste, perfect for post workout!
Author:
Your Healthy Hedonista
Ingredients
Wet Ingredients:


50 g soft butter
20 g almond butter
80 g egg whites


Dry Ingredients:


268 g Bob's Red Mill Brownie Mix
48 g Dark Chocolate, cut into chunks
Instructions
Pre-heat the oven to 350 F. Measure the wet ingredients into a Ninja Blender bowl, and pulse until smooth. Add the protein and brownie mix and pulse again until the ingredients are incorporated. Caution! This is a very, very thick batter, similar to cookie dough. You will probably need to take out the blades and do a final mix with a spoon to make sure the creamy bottom mixes with the top, (at least that's what I always do). Whatever you do, DO NOT ADD MORE LIQUID!!
Fold in the chocolate chunks, spoon evenly into 6 Silpat muffin molds, and bake for about 15 minutes at 350 F until they are still a little soft in the middle.
Nutrition Information
Serving size:
1
Calories:
323
Fat:
13.2
Carbohydrates:
41.7
Protein:
9