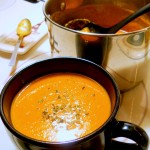 Butternut squash soup is one of my favorite ways to meet my macros for meals that are higher in fibrous carbs, when I don't feel like munching on a humungous bowl of veggies…!
What you'll need…
1 large butternut squash, cut in half, seeds scooped out
2 tsp olive oil
1 tsp cinnamon
1 tsp dry herbs de provence
salt and pepper to taste
2 heads of garlic, tips cut off
2 tsp clarified butter
1 Tbsp minced shallot
1 Tbsp grated ginger
squeeze of fresh lemon juice
Preheat the oven to 400F, and line a cookie sheet with tin foil. Rub the squash with the oil and seasonings, then place on the sheet cut-side facing up, and toss the two heads of garlic on the sheet on a small schmear of olive oil, cut-side facing down.
Pop it all into the oven and roast for 40 minutes until the squash is caramelized to death and ultra yummy. The garlic you will need to remove after 20 minutes. Once the squash has cooled off enough to handle, scoop out the flesh, discard the skin, and squeeze out the flesh of the roasted garlic from the papery skins. Put it all in a bowl. Meanwhile, in a large saucepan, heat up 2 tsp of clarified butter until sizzling, throw in 1 Tbsp of minced shallot, soften for about a minute, add 1 Tbsp fresh grated ginger, and cook for another minute. Add 2 cups of organic chicken or vegetable broth into the pot, add the squash/garlic mixture, and bring everything to a gentle simmer. Blend it all with an immersion blender until smooth, add the lemon juice and voila! Adjust seasoning to suit your taste!