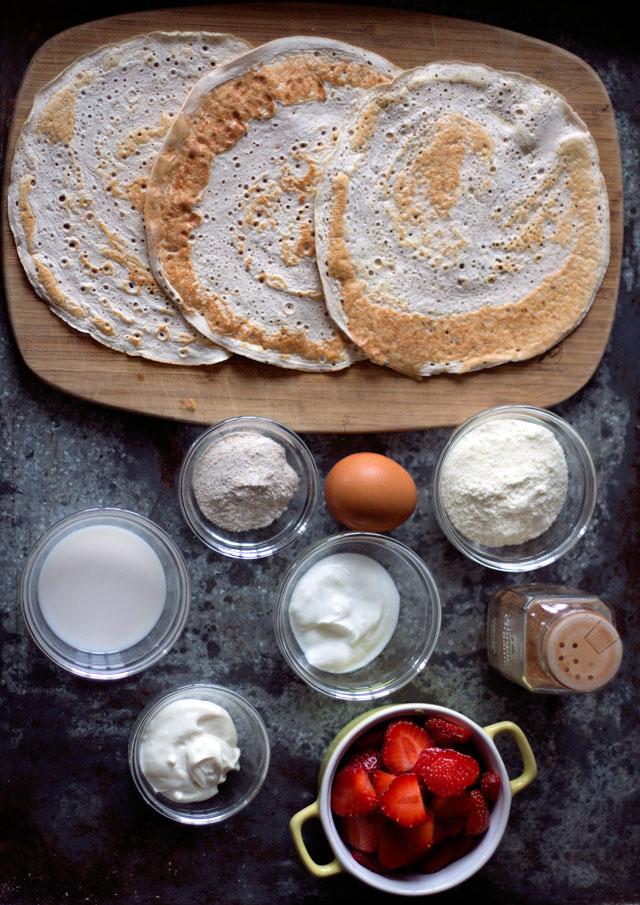 The ingredients are simple, just Quattro Vanilla Protein powder, Bob's Gluten Free Pancake Mix, Yogurt, Egg White, Almond Milk and Cinnamon.  Once you've made these a few times you'll see how perfectly easy it is to substitute a fluffy protein-based crepe for your usual Sunday brunch deliciousness.  Trust me.  I care about taste at least as much as I do about  nutrition.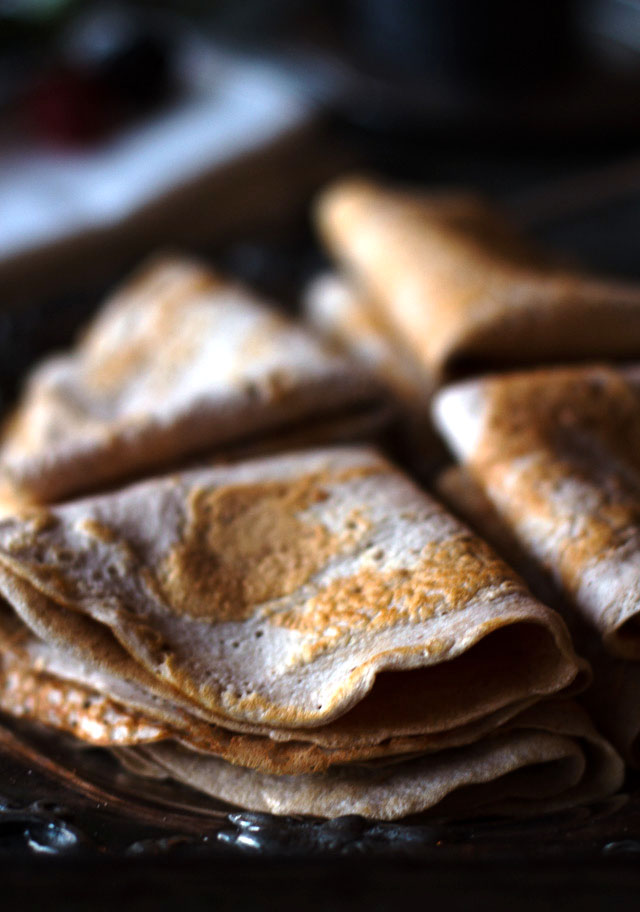 I absolutely love  these crepes, and have been fine-tuning my recipe over the last several weeks to get the consistency just right, without losing any of the nutritional value or taste that I'm looking for.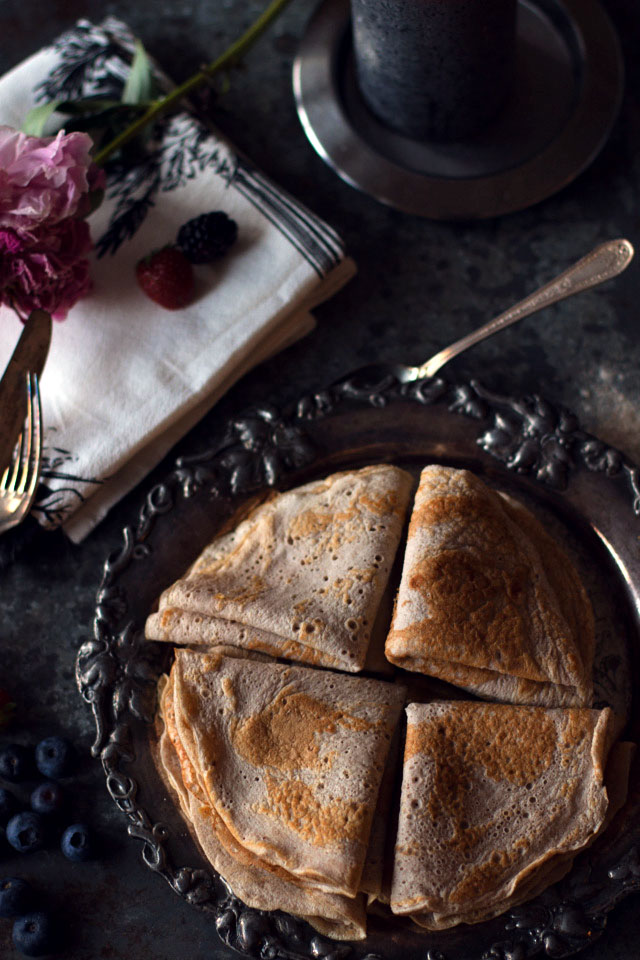 You can use these as a base for breakfast, a dessert, or turn them into something more savory if  you prefer.  The choices are endless, and because Magnum now makes an unsweetened, flavor-free protein powder, the transition into savory is easier than ever.
The focus here, however, is on SWEET…!!
I hope you enjoy these as much as we do! xoxo

Gluten Free Crepes
An incredibly light and fluffy protein crepe recipe that takes only a few minutes to put together with a blender. Easy!
Author:
Your Healthy Hedonista
Ingredients
For the Crepes
½ cup egg whites
30 grams Greek yogurt
2 Tablespoons of Almond Milk
19 grams of Magnum Quattro Protein Powder (Vanilla)
1 Tablespoons of Guten-Free Pancake Mix
pinch of cinnamon
2 drops of liquid stevia (optional)
For the Vanilla Cream
20 g Light Cream Cheese
10 g 0% Greek Yogurt
5 g Magnum Quattro Vanilla Protein
For the Berries
30 g sliced sweet strawberries
20 g blueberries
Instructions
For the Crepes:
Warm a non-stick pan on the stove-top, on medium-high heat. In a blender mix all the ingredients for about 20 seconds. Lightly spray the pan with organic coconut oil. Using a soup ladle, pour ¼ of the batter into the center of the pan, and with the back of the ladle gently spread the batter in a circular motion into a very thin crepe. As soon as the batter bubbles, flip over with a spatula or your fingers, and cook for another 20 seconds. Transfer to a plate and cook the remaining 3 crepes.
For the Vanilla Cream:
In a small bowl mix all of the ingredients thoroughly until it has the consistency of heavy whipped cream, (about 30 seconds).
Putting it all together:
I simply spoon the cream onto the outer edge of half of each crepe, add the berries evenly, and wrap by fourths into a quarter cirle. If you're feeling a bit lazy because it's early morning, just roll it up like a burrito and enjoy!
Notes
The nutritional data for the entire recipe, including the protein cream and berries is:
40.5 g Protein; 16.9 g Carbs; 3.8 g Fat
Crepes (4):
33.6 g Protein; 8.0 g Carbs; 0.8 g Fat
Protein Cream (35 g)
6.6 g Protein; 1.9 g Carbs; 2.8 g Fat
Berries (50 g)
.35 g Protein; 7.0 g Carbs; 0.15 g Fat
Nutrition Information
Serving size:
4
Fat:
0.2
:
0
Carbohydrates:
2
Protein:
8.4