This was another happy creation that came together as a result of wanting a kick-ass brownie that didn't trample my fat macros, still tasted rich in chocolate, and was super gooey and moist.  The kicker is that I substituted butter with organic peanut  butter which not only added a ton of peanut-ty flavor but also brought down the total fat.  We ended up taking it with us on the plane to Mexico and it was a life-safer mid-flight.

(My husband actually said it was sooooo much better than a Snickers chocolate bar which is pretty astounding considering he has had a lifetime addiction to Snickers!!)  I hope you LOVE it!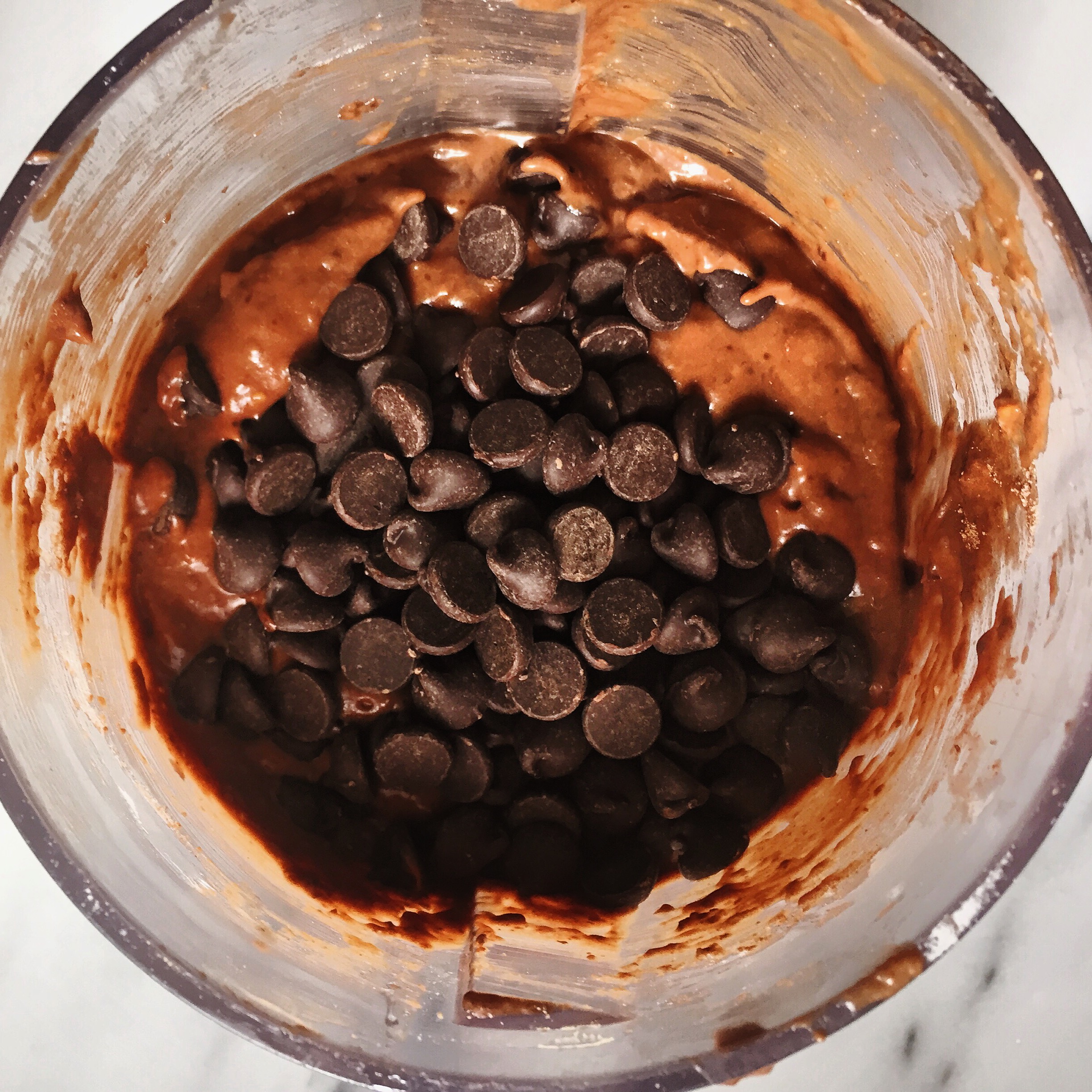 I used Krisda stevia-sweetened chocolate chips which were much lower in fat and higher in carbs that the Lindt or Camino semi-sweet chocolate I was using in my Holy Cow Brownie.  Krisda is by far the best organic powdered stevia I've tried.  I use it in all of my baking and I often pair it with Xyla, a Canadian organic brand of granulated xylitol.  Both help me keep my recipes lower on the glycemic load as both are non-insulinogenic (they don't promote the release of insulin).  If you can't find either of these products locally, try the internet!  You'd be amazed at what you can order online these days.  As usual, this is an uber-simple recipe that you can make in your Ninja food-processor.
Weigh out all the dry ingredients into a bowl first, using a metric scale (I prefer Salter), and resetting to 'zero' before adding the next ingredient to avoid doing any math. (I HATE doing math while cooking). Next, set your Ninja bowl on the scale and weigh out all the wet ingredients.  Blend the wet ingredients for about 30 seconds until everything is smooth, and then add in the dry ingredients (except for the chocolate chips).  Blend for another 15 seconds, then remove the blades, stir in the chips and voila!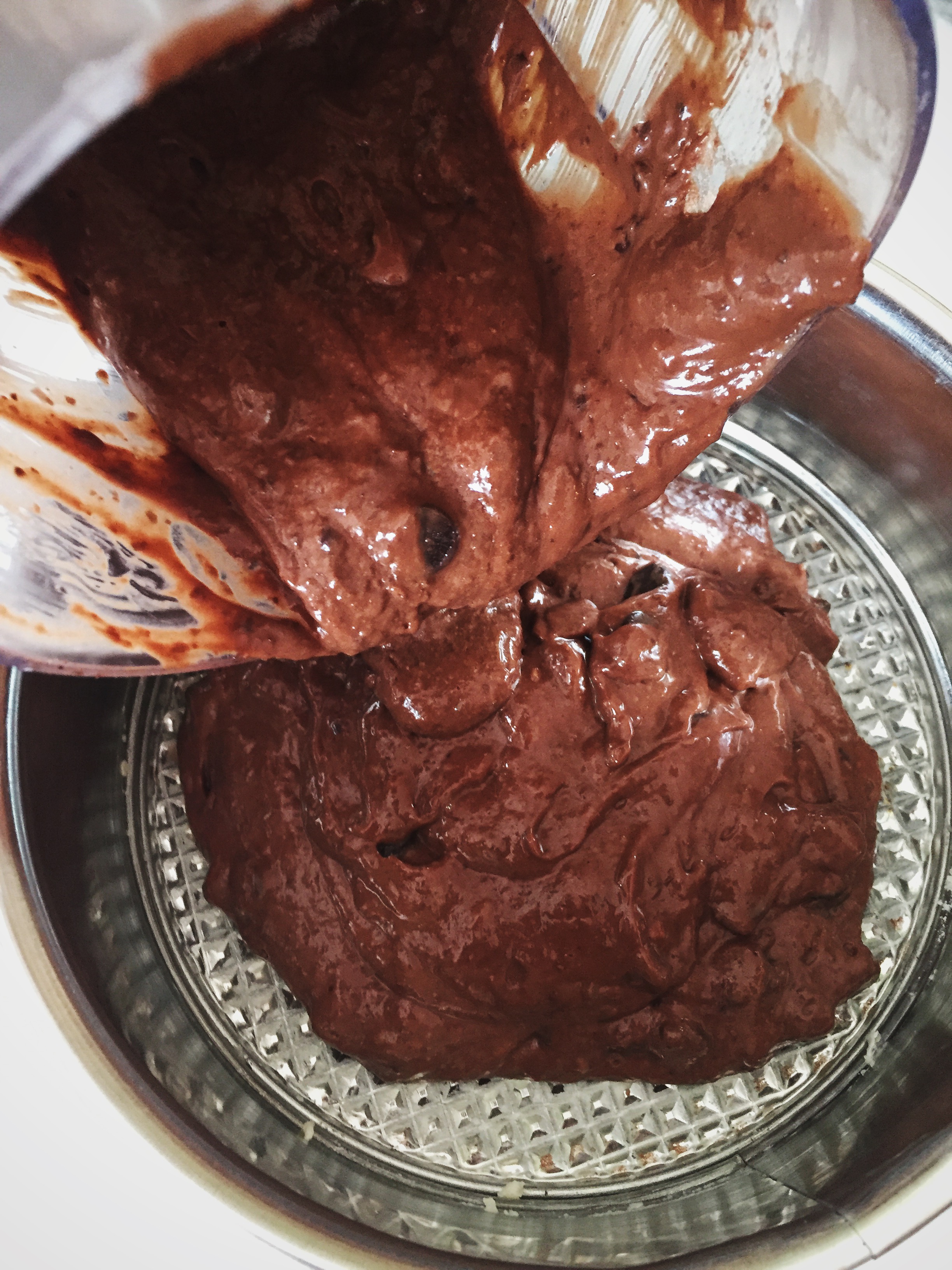 I prefer to use a spring-form baking pan.  Getting the brownie out is so simple because you just need to release the spring and the mold expands, leaving the cake or brownie intact inside.  No messy digging around with your knife and spatula!  Seriously, get one!  Mine is small, only 6″ in diameter, as my recipes are all mini-sized. 🙂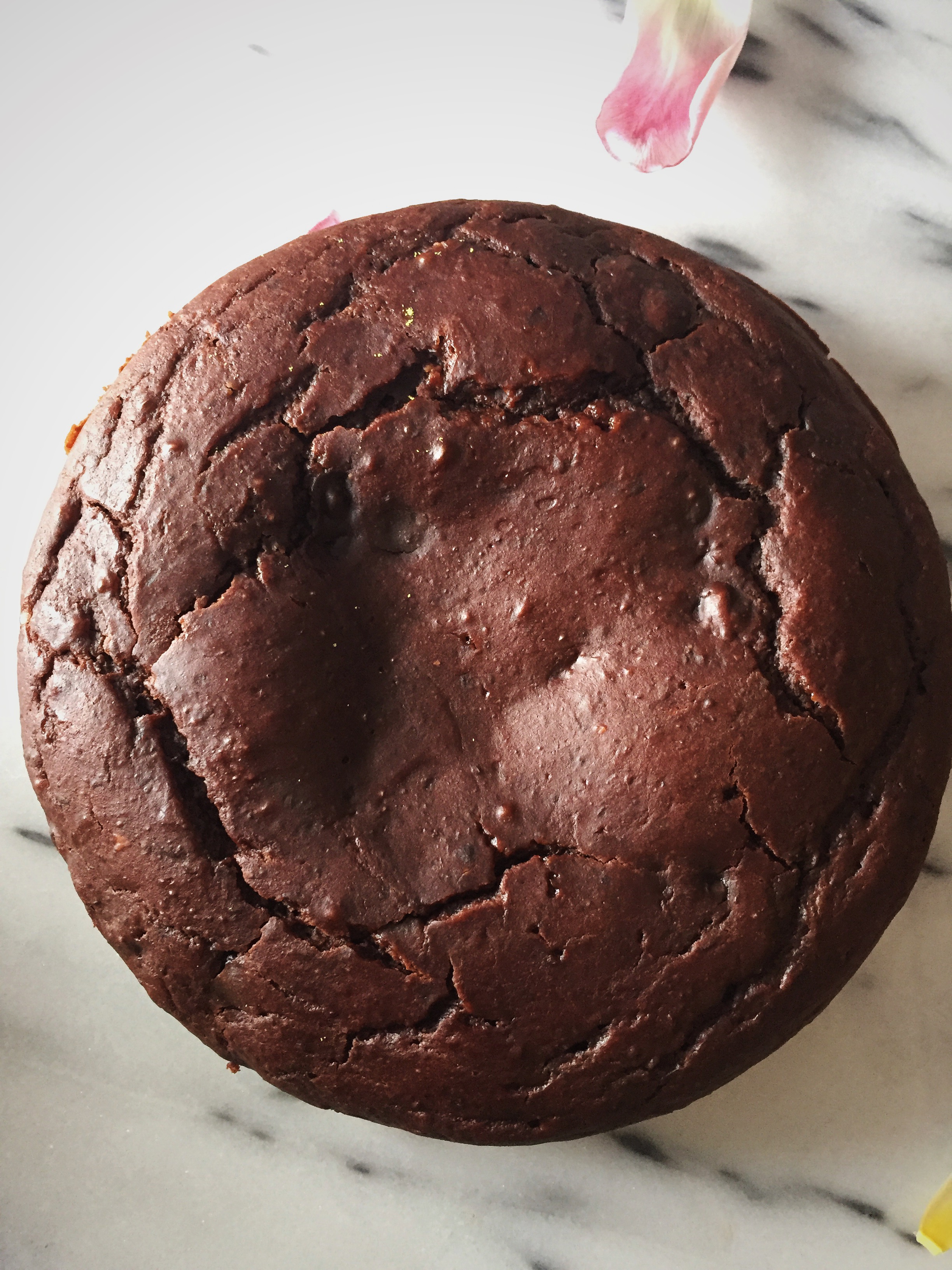 The "Skinny" Brownie
Author:
Your Healthy Hedonista
Ingredients
Dry Ingredients:
1 Tbsp Krisda Sweetener
1 Tbsp Xyla Sweetener
15 g Gluten Free Pancake Mix
15 g Organic Cocoa Powder
16 g Quattro 'Chocolate Peanut Butter Addiction' Protein Powder
1 tsp baking powder
71 g of Krisda Chocolate Chips
Wet Ingredients
101 g black beans, drained and rinsed
30 g 1% cottage cheese
24 g honey
70 g egg whites
29 g organic peanut butter
Instructions
Preheat the oven to 350F and lightly grease a 6" spring-form cake pan.
Measure all the dry ingredients except the chocolate chips into a small bowl and set aside.
Measure out all the wet ingredients into the bowl of a small food processor. Blend for 30 seconds until the mixture is smooth. Add the dry ingredients and blend for another 15 seconds until creamy. Remove the blades and stir in the chocolate chips.
Pour the batter into the cake pan and bake in the oven for 20 minutes. It should still be soft in the middle.
Remove from the oven and let cool on wire racks for 2 minutes before undoing the spring and removing the cake mold. I recommend letting the brownie cool for another 10 minutes before attempting to cut as it will still be very gooey in the middle.
Serve with Chocolate Syrup!
Nutrition Information
Serving size:
1
Calories:
172.73
Fat:
6.59
Carbohydrates:
21
Protein:
7.6