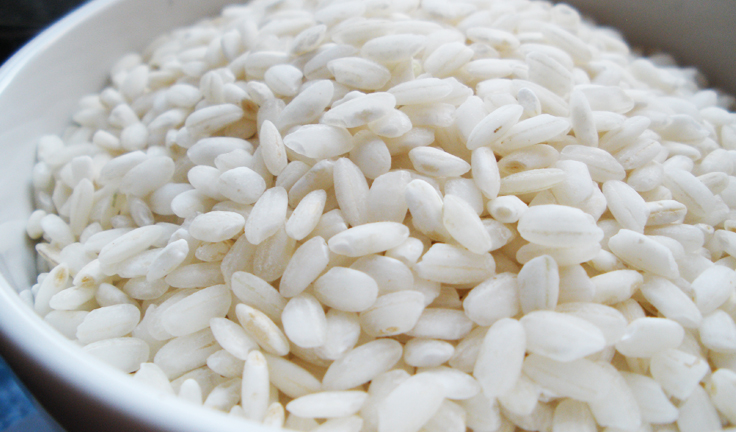 I am a little less than 4 weeks away from the WBFF World Championships, and down to one high-carb day per week. I wanted to try out rice today to see how it digested and how I look in termsof tightness in my muslces vs skin quality when eating it. My coach JJ has me eating about 180 grams of carbs today, very little fat, and moderate protein, (about 110 grams)…I had bought a wonderful box of organic arborio rice, the rice used in creamy Italian risotto dishes, and I wanted to use up the chicken broth I had kicking around in the kitchen from last week's chicken roasting bonanza. If you don't have your own chicken broth, just substitute with the organic variety from the store. The difference is that with the homemade variety, you get all the gelatin and minerals leached from the bones and when you're dieting and training hard like I am, you need everything you can get! xo
What you'll need…
2 tsp olive oil oil
1 stalk celery, brunoised (very small dice!)
1/4 vidalia onion, brunoised
1 small clove garlic, smashed
1 tbsp fresh lemon juice
sea salt
2 cups arborio rice
6 cups + chicken broth
Grated Parmesan to taste
In a fairly large pot, heat up the olive oil, and then toss in the vegetables, stirring frequently to keep the garlic from burning. After only a  minute, add everything else but the broth, and stir quickly to coat the rice kernels. When the rice is glistening with flavor, add in 2 cups of the broth, bring to a boil, and then reduce to a simmer, stirring often to avoid sticking. The key to cooking risotto is to CONTINUOUSLY add the liquid to the rice. I'm too busy to stand over the stove, so I added a cup or so at a time, stir occassionally, and when it's almost done, (close to 30 minutes), I simply from the burner, keep it covered, and let steam in it's own heat until completely done. I had JJ taste it, adjusted the flavors by adding a bit more lemon juice and salt and voila, we had rice for the entire day!
Add the grated parmesan to the dishes individually so that you can control the macros. Remember, 1 tablespoon of grated parmesan gives you only 1.4 grams of fat, and 1.9 grams of protein, and a whopping punch of taste!
I had my rice with about 3 oz of chicken "tenders" made in my handy-dandy toaster oven with a few stalks of broiled asparagus and blanched spring peas and fava beans. On low carb days it's often good to pair your starches with leaner meats: chicken, halibut, egg whites, pork loin, etc….