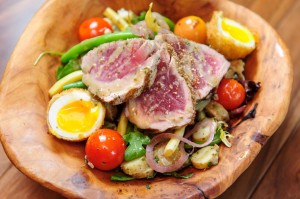 One of my favorite summer salads, and I'll switch it up by tossing in some yellow beans, asparagus, roasted tomatoes, endive, black olives, pine nuts, swordfish or yellowtail.  Sky is the limit!  It's a protein dense salad that lets the fish shine through, and you can add more or less potato depending on how carb-dense you want it to be.  I've also made this with aged white balsamic vinegar and it was pretty insanely delicious.  Enjoy!!
What you'll need…
4 oz tuna
1 tsp duck fat
salt and pepper to taste
1 tsp lemon juice
1/2 cup halved green beans, blanched
3 baby potatoes, boiled and quartered
4 green olives, sliced
1 tsp capers
1 tsp quality olive oil
1 hard boiled egg, quartered
1 tsp homemade mayo
drizzle of aged balsamic vinegar
Simply get a small saucepan going over medium-high heat with the duck fat in it, and when it starts to shimmer, lay the tuna down, seasoned with the salt and pepper, and let sear for about 2 minutes on both sides.  Turn the heat off, remove the tuna and let rest on a cutting board, and then toss the lemon juice, beans, potatoes, tomatoes, olives, capers, and olive oil in the pan, coating everything thoroughly, and slightly warming through.  Adjust the seasoning if necessary.  Carefully slice the tuna thinly with your sharpest knife, and then plate with the eggs and tuna on top, a bit of mayo, and drizzle everything with a bit of that delicious balsamic vinegar!
This will give you roughly 35 grams of Protein, 25 grams of carbs, and 20 grams of fat.