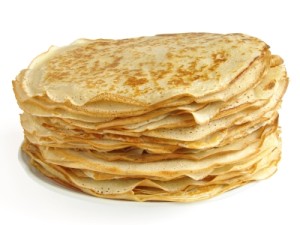 What You'll Need…
1 Tbsp unflavored protein powder
2 Tbsp 0% Greek Yogurt
1/3 cup egg whites (I used the carton form) or 2 large egg whites
1/4 cup water
2 Tbsp Gluten-free Flour
1/8 tsp baking powder
generous pinch sea salt
1 tsp cinnamon
3 drops stevia
Whiz everything in a blender for a few seconds. The better will be VERY THIN, (CREPE BATTER!!). Do not add more flour as this will make a verrrrry tough crepe! Pour into a heated non-stick pan coated with clarified butter or coconut oil. It will only take about 30-45 seconds to cook the first side. There will likely be a few runny spots, but please do NOT overcook as the protein powder will turn into rubber. Carefully flip over and cook for another 10-15 seconds. Serve immediately.
Crepes are a very, very thin "pancake" and are often served savory with thin strips of pink ham, some sliced scallions and a bit of melted cheese. If you have to keep them low fat, I always recommend using Parmesan as 1 TBSP has only 1 gram of fat and 2 grams of protein, but a ton of flavor. To add moisture you can use 0% cottage cheese or make a low fat "cream filling" by blending Parmesan cheese with 0% greek yogurt! Yummmersssss!!!!
I like these post-workout with a matching "egg-white" crepe, (just egg-whites and a bit of stevia and cinnamon), drizzled in a teensy bit of maple syrup, 1/2 sliced banana, and a few berries…soooooo good! Gotta feed my muscles! xoxo
This recipe makes 2 very large crepes or 4 smaller ones
Macros for entire recipe:
15 g Protein
12 g Carbs
0 G Fat