I absolutely LOVE the taste of chicken liver properly prepared by soaking in overnight in milk, and briefly sauteed in the pan with a bit of butter, shallots and port.  They should be a delicate pink on the inside, incredibly tender, and have a rich but mellow flavor, perfect to toss into an arugula salad with poached asparagus, or quinoa pasta with shaved button mushrooms and peas. The benefits of chicken livers are high: rich in protein, folate, Vitamins B 12, iron and Vitamin A.  They're like nature's vitamin pak and taste divine in my opinion…On the other hand my husband has an instinctive aversion to eating whole livers.  I can't even get him to taste one!  He will, however, easily demolish a whole plate of liver pate.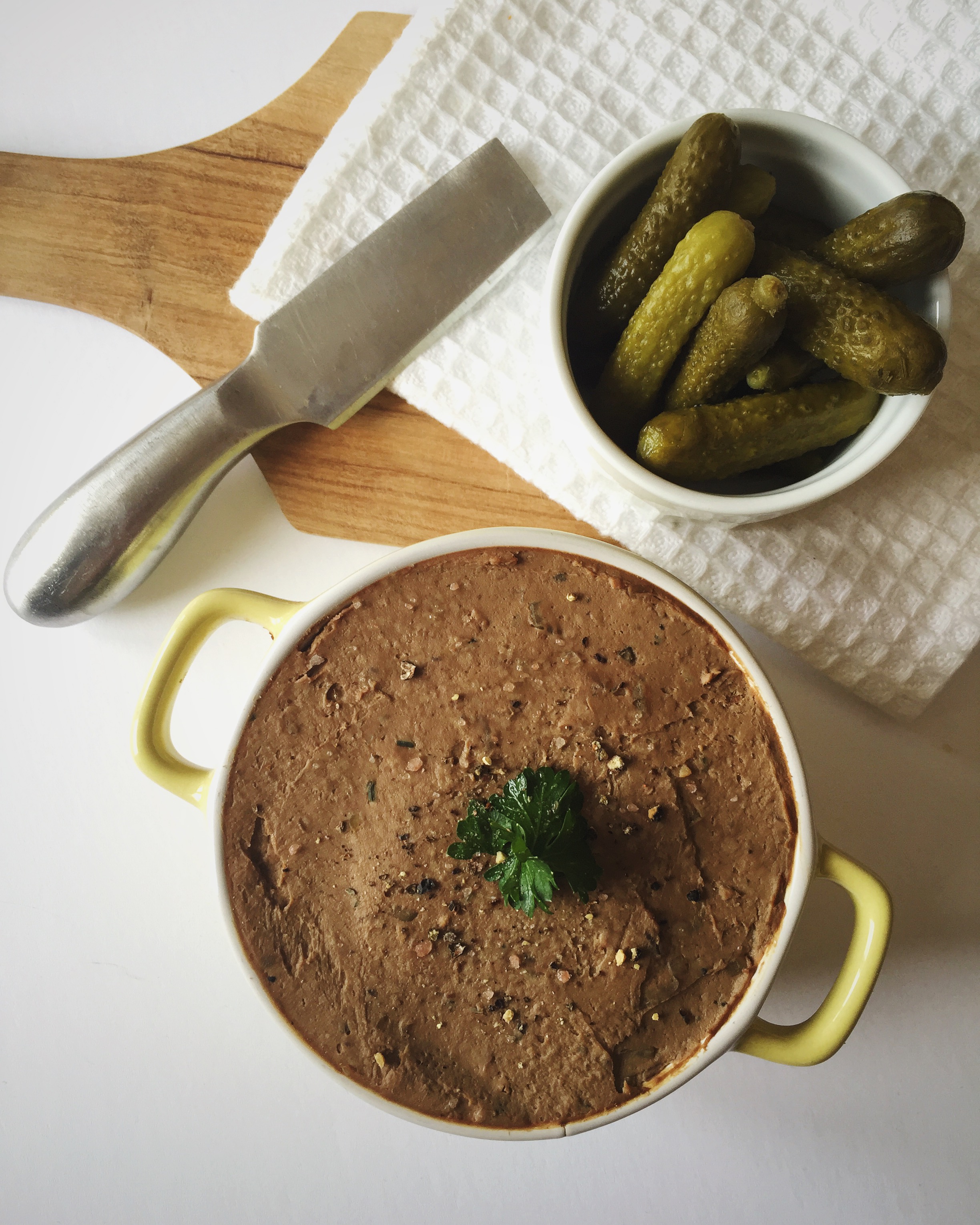 Store-bought pate is convenient and delicious, but very high in fat as traditional recipes call for gobs of butter or cream.  My mission was to come up with an easy, tasty recipe that skipped as much of the unnecessary added fat, but kept the taste and texture.  We first had these on a cooking date with my athletes Charlotte Dury and Nancy Tang.  Nancy was in charge of the pate, and Charlotte made the most amazing crumpets as seen in the last picture…(these will be featured in next weekend's post).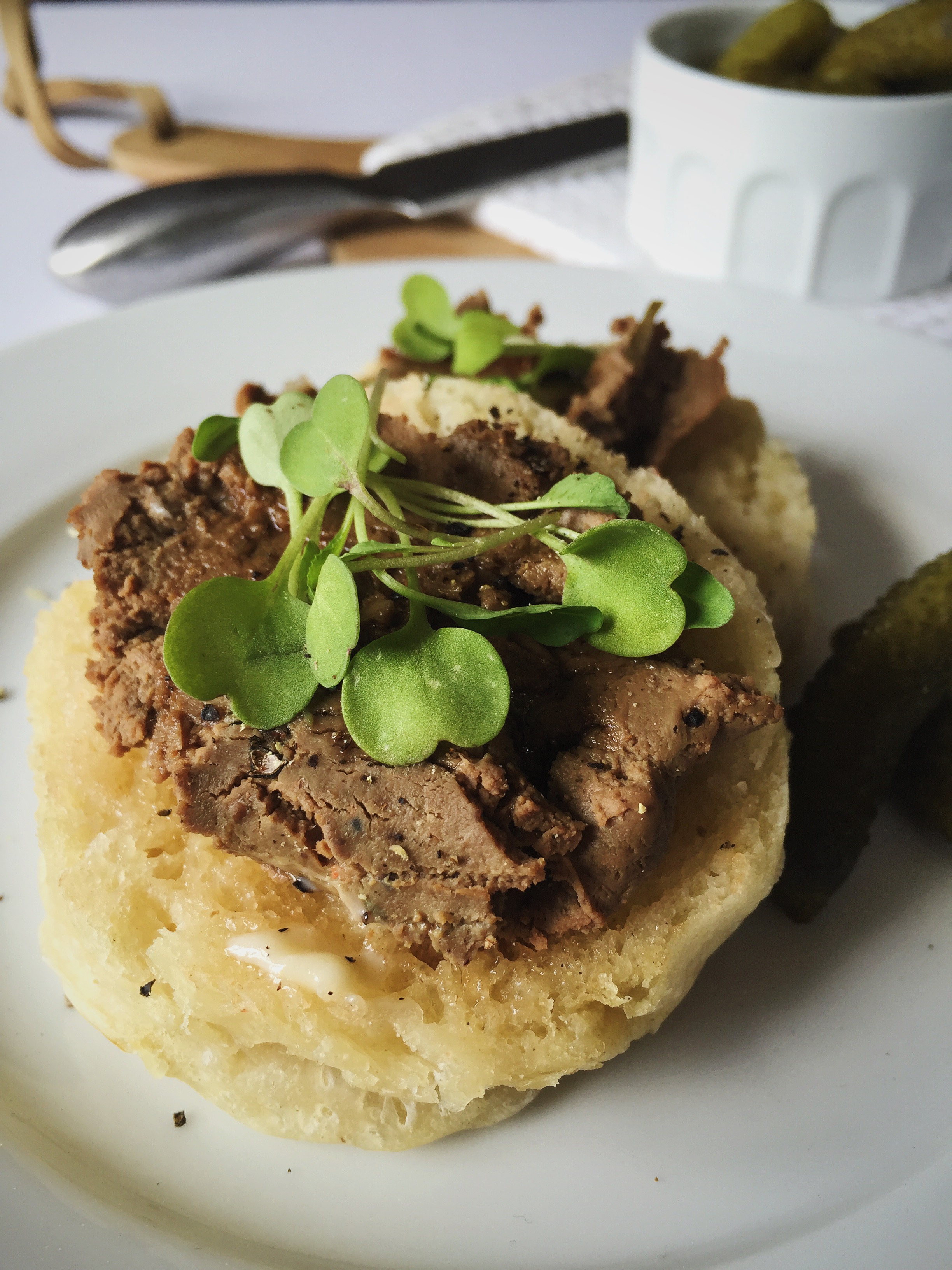 Don't be daunted, the method is simple, and all you need is a good mini-food processor to get perfectly smooth pate!
Soak the chicken livers in milk for at least 2 -3 hours to give them a more mellow taste, and then rinse, snip off any connective tissue (the whitish bits) and I recommend separating the livers into slightly smaller lobes for more even cooking.  You'll notice that in a package of livers some will be much larger than others.  Pat dry and get a small non-stick saucepan on medium heat with the butter, and saute the shallots until softened.  Add the chicken livers and water, reduce the heat to low, cover and steam for a couple of minutes until they are just pink inside, (eventually you can tell just by pressing them, but if you're new to cooking, don't feel shy to slice one open and have a peak inside). Make sure to flip them over halfway to ensure they cook evenly!
At this point, transfer the livers to your mini food prep.  Turn up the heat, and add the mirin to the saucepan along with the herbs and salt and reduce for a couple of minutes until everything has carmelized nicely.  You should have about 2 tbsp of liquid left.   Transfer this to the food procesor as well, and whiz it all together for about 30 seconds, scraping down the sides, until you have a creamy pate.  If you need to add a bit more water, do so.  You want to be able to spread your pate: the final result should have a texture similar to whipped cream cheese.
I used Herbs de Provence and mirin, but feel free to substitute with difference herbs (mace and sage are both popular), different cooking liquors like brandy or port, and you can add in more shallots, onions, etc.  Create your own recipe that suits your own tastes.
Please check back next week for my crumpet recipe so you can REALLY wow and amaze your family, and yourself for that matter…xoxo

Chicken Liver Pate
Author:
Your Healthy Hedonista
Ingredients
20 g clarified butter
60 g shallots, minced
4 g garlic
¼ c water
10 oz chicken livers, organic only!
2 tbsp Mirin
1 tsp Herbs de Provence
Sea Salt
Instructions
Prepare the livers ahead of time by soaking in milk for 2 -3 hours. Quickly trim off any connective tissue, separate any larger lobes into smaller pieces, rinse and pat dry. Now they're ready to use!
Heat the butter in a small non-stick saucepan, and saute the shallots and garlic until fragrant and soft, about 2-3 minutes.
Add the water and livers, reduce the heat to low, cover, and steam for another 3-4 minutes, turning over once. The livers should be rosy pink in the center.
Transfer the livers to a small food prep, add the herbs, salt and Mirin to the saucepan and turn the heat up high. Reduce the liquid by about half. This should only take another 3 minutes or so.
At this point you should have about 2 tablespoons of liquid left. Transfer it and the shallots to the food prep and whiz everything together until creamy, scraping down the sides if necessary. Have a taste and see if it needs a bit more salt or herbs, or even water.
You can store it in the fridge in an air-tight container and it will last for about a week, though in our house we'll go through it in about 3 days!
Nutrition Information
Serving size:
30 g
Calories:
62
Fat:
3.3
Carbohydrates:
2.3
Protein:
5.5